CU2 ATEX
Wide-ranging rectangular fire damper up to 120'
The CU2 ATEX is an explosion protected rectangular fire damper for use in zone 1,2 (gas) and zone 21,22 (combustible dust). The rectangular fire damper is EIS60 classified and suitable for built-in installation.
Available dimensions (Hn/Wn): 200×200 mm > 1500x1000mm
Components:
Explosion proof mechanism
Equipotential connection
Features:
Hygiene certificate (www.HYG.de) for CU2: H > 600 or W > 800
Tested according to EN 1366-2 up to 500 Pa
Suitable for built-in installation
Minimal distance allowed
Suitable for rigid wall, rigid floor and light wall (metal stud gypsum plasterboard wall, gypsum blocks)
Sealing with fire resistant stone wool boards allowed, also for asymmetric opening
Air tightness in accordance with EN 1751: class B (class C in option )
Operating mechanism outside the wall
Maintenance-free
For indoor use
Operating temperature: max. 50°C
Intermediate dimensions on request
Download Technical datasheet KIT
Explosion proof (ATEX) motor for different risk areas: • Zone 1/21: average risk of explosion >100h/year explosive environment • Zone 2/22: low risk of explosion <10h/year of explosive environment

1. Access for manual resetting
2. Thermo-electric tripping device (T)
3. Switch S (selection of the running time)
VARIANTS
RMEX
explosion proof actuator zone 2/22
RMEXT
explosion proof actuator zone 2/22 with thermo-electric fuse (T)
EMEX
explosion proof actuator zone 1/2/21/22
EMEXT
explosion proof actuator zone 1/2/21/22 with thermo-electric fuse (T)'
UNLOCKING
manual unlocking
n.a.
automatic unlocking
as soon as the reaction temperature (72°C) of the thermo-electric tripping device is reached (Types EMEXT/RMEXT).
remote unlocking
by interrupting the power supply.
RESETTING
manual resetting
use the delivered socket wrench, turn in slow motion and apply enough torque/force.
motorised resetting
supply the actuator (respect the prescribed voltage) for at least 60 sec. The resetting stops automatically.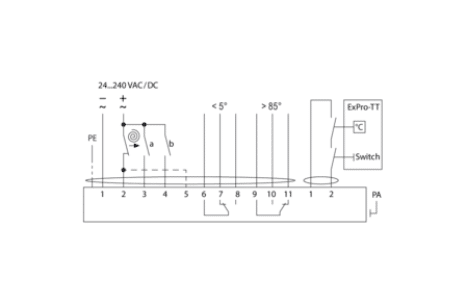 Download the technical brochure of the CU2 series