Avantage 2V120
Smoke control shutter
Avantage smoke control shutter, double (2V) shutter unit.
Available dimensions (Hn/Wn): 350×385 mm > 1100×1105 mm
Benefits:
Superior air tightness (tested at 1500 Pa)
Optimal free air passage and minimal pressure loss
2V model with simplified manual reset (closing)
Components:
2 shutters (2V)
Aluminium frame
Lock + key
Connection compartment
Blocking mechanism + automatic locking at 90°
Product identification
Central support (2V)
Front protection grill (compulsory)
Features:
2 shutters
Fire resistance till 120 minutes
| | |
| --- | --- |
| | Remote controlled unlocking by an electric impulse (VD) or by ­interruption (VM) of the magnet's power supply. |
VARIANTS
VA MEC
Unlocking mechanism for Kamouflage and Avantage


OPTIONS – MAGNET
VD24
Natural magnet 24 V DC
VD48
Natural magnet 48 V DC
VM24
Electromagnet 24 V DC (not applicable for ME and H model)
VM48
Electromagnet 48 V DC (not applicable for ME and H model)
FDCB
Auxiliary limit switch 'open/closed'
FDCU
Limit switch 'open/closed' (Incl. exc. for H model) 


UNLOCKING
manual unlocking
with the key (delivered in the bag together with the installation guidelines)
automatic unlocking
n/a
remote unlocking
by electrical impulse (VD) or interruption (VM) of current to the magnet.


RESETTING
manual resetting
with the key (delivered in the bag together with the installation guidelines)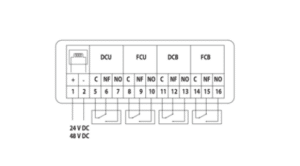 Download the technical brochure of the Avantage series